Trees for Myer Stores Nationwide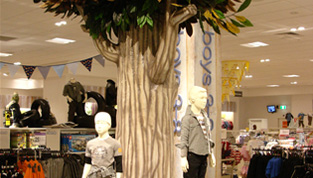 In association with Animation and Display, King's Fibreglass manufactured the 'TREES' used as a nationwide clothing display in the Myer stores. These displays are custom painted to give the effect of a tree trunk with bark. If you require custom work contact Animation and Display at their studio on (03) 9738 0011 for further information.
Thomas the Tank Character Faces

King's Fibreglass produces various licensed components for Stage 1. These Thomas the Tank Engine character faces are used on the front of vehicles to replicate the characters of the show. As the years go on we have continued to iterate on the design to get the most accurate Thomas face. For more information on Stage 1 work at www.stage1.com.au
King's Fibreglass in conjunction with Mother's Art Production manufactured the LARGE plate and generously sized wine glass for the Melbourne Food and Wine Festival. You can view some of the other works from Mothers Art Productions at www.mothersart.com.au.